"CTET, a significant milestone for those aspiring for a teaching position in India's government sector, announces its CTET exam date for 2023. Candidates preparing for this examination should familiarize themselves with the CTET syllabus as early as possible. To aid in their preparation, the CTET admit card will be made available well before the exam, and for a comprehensive understanding, they can also refer to the CTET previous year papers. Once the examination concludes, the CTET result 2023 will serve as a golden ticket for applicants aiming to teach primary and upper primary classes in government and government-aided schools."
CTET 2023 Highlights
What is it? Central Teacher Eligibility Test, a national-level examination, validates the capability of candidates for teaching posts for Classes 1 to 8 in prestigious Central Government Schools such as NVS/KVS and more. It is worth noting that some states, that don't have their TET exams, select teachers based on CTET scores.
Who conducts it? The Central Board of Secondary Education (CBSE) is the official body overseeing this examination.
Exam mode? Good old-fashioned pen and paper. The CTET 2023 is an offline OMR-based examination.
When is it? Mark your calendars for the 20th of August, 2023.
Languages? Hindi and English are the chosen mediums for this test.
Where can I get more details? For more information, keep an eye on the official CTET website: www.ctet.nic.in
| Event | Date | 🌐 Official Site Link |
| --- | --- | --- |
| 📢 CTET Notification 2023 | 27th April 2023 | Link |
| 📅 Start of CTET Application | 27th April 2023 | Link |
| ⏰ Last Date for Application & Fee Payment | 26th May 2023 (11:59 pm) | Link |
| ✏️ Online Correction Window | 29th May to 2nd June 2023 | Link |
| 📜 Release of CTET Pre Admit Card | 1st August 2023 | Link |
| 🎫 Release of CTET Admit Card | 17th August 2023 | Link |
| 📆 CTET Exam Date | 20th August 2023 | Link |
| 🔑 Release of CTET Answer Key | 16th September 2023 | Link |
| 🏆 Declaration of CTET Result | Last week of September 2023 | Link |
Key Dates for CTET 2023
| Event | Date |
| --- | --- |
| CTET Notification 2023 | 27th April 2023 |
| Start of CTET Application | 27th April 2023 |
| Last Date for Application & Fee Payment | 26th May 2023 (11:59 pm) |
| Online Correction Window | 29th May to 2nd June 2023 |
| Release of CTET Pre Admit Card | 1st August 2023 |
| Release of CTET Admit Card | 17th August 2023 |
| CTET Exam Date | 20th August 2023 |
| Release of CTET Answer Key | 16th September 2023 |
| Declaration of CTET Result | Last week of September 2023 |
Recent Updates
CTET 2023 Answer Key: The much-awaited answer key and OMR sheet for CTET 2023 were made available on the 16th of September. You can fetch it from the official CTET website or use this direct link.
CTET 2023 Notification: A comprehensive notification detailing the application process, eligibility, syllabus, and more, is now available for download in PDF format. Click here to download.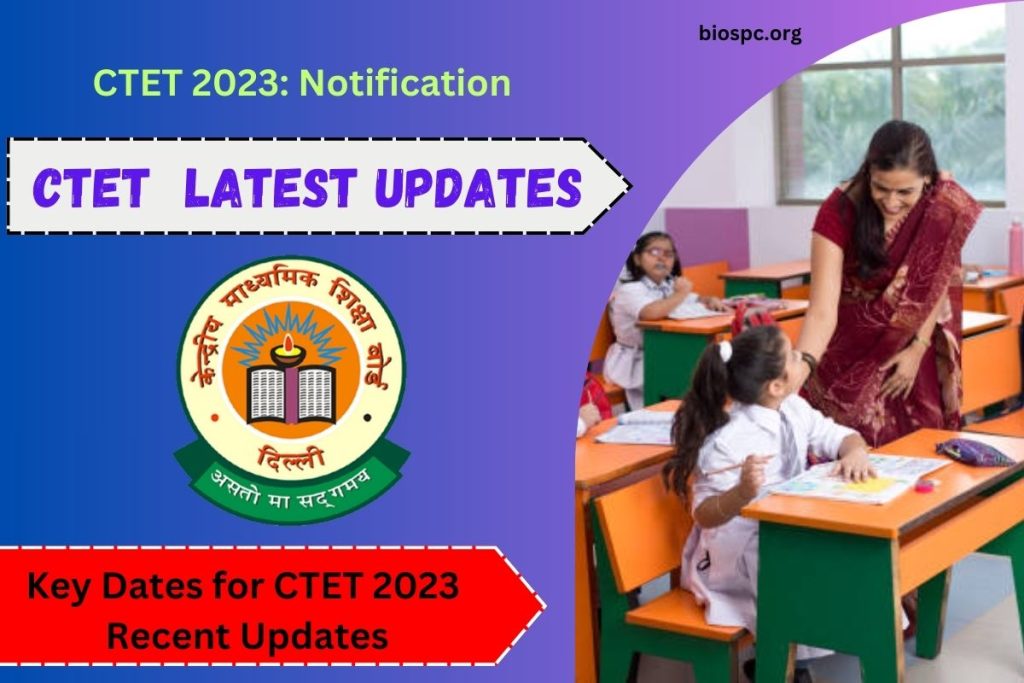 How to Register?
CBSE has rolled out the registration process for CTET 2023 on 27 April. Prospective candidates can find the application form and more details by visiting the official CTET website. It's advisable to be meticulous during this process to avoid future complications.
How Much is the Fee?
Your application fee hinges on the category you belong to:
General/OBC:

Rs. 1000/- for one paper
Rs. 1200/- for both papers

SC/ST:

Rs. 600/- (irrespective of the number of papers)
A Gentle Reminder: The CTET is not just a test, but an affirmation of one's ability to shape the future by moulding young minds. Prepare well and give it your best shot!
CTET 2023 Overview:
Introduction: The Central Teacher Eligibility Test (CTET) is a national-level exam conducted twice annually to certify eligibility for teaching roles in government schools. It is essential for teaching primary and upper primary classes.
Date and Mode: The CTET 2023 exam will be conducted offline by CBSE on 20 August 2023.
Summary:
Exam Name: CTET July 2023
Organizing Body: Central Board of Secondary Education
Mode: Offline (OMR Based)
Date: 20th August 2023
Duration: 150 minutes
Purpose: To ascertain eligibility for teaching roles for Classes 1-8.
Test Cities: 135 cities across India
Official Website: www.ctet.nic.in
Important Dates: The CTET Notification was released on 27th April 2023. Application commencement and the last date to apply were on the same day. Admit cards will be available from 17th August 2023. CTET result 2023. The answer key was released on 16th September 2023, with results expected in the last week of September.
Registration: This began on 27th April 2023 and ended on 26th May 2023.
Application Fee: General/OBC candidates pay Rs. 1000/- for one paper or Rs. 1200/- for both, while SC/ST/Differently-abled persons pay Rs. 500/- for one paper or Rs. 600/- for both.
Eligibility Criteria:
Classes 1-5: Various criteria including completion of Senior Secondary or its equivalent with certain percentages and qualifications such as Diploma in Elementary Education or Bachelor's degree.
Classes 6-8: Criteria involve having a Graduation degree and specific qualifications or percentages, such as a Bachelor in Education or Bachelor of Elementary Education.
Selection Process: The CTET score determines eligibility; a minimum of 60% is required. However, scoring does not guarantee a job. CTET admit card. Aspirants must apply separately to schools that recognize CTET certification.
Exam Pattern:

Paper I: For aspirants wanting to teach Classes 1-5.
Paper II: For those aiming to teach Classes 6-8.
Both papers consist of multiple-choice questions, and candidates can choose to apply for one or both.
CTET Paper I Pattern:

Language I: 30 questions
Language II: 30 questions
Child Development and Pedagogy: 30 questions
Environmental Studies: 30 questions
Mathematics: 30 questions
Total: 150 questions worth 150 marks.
Nature of Questions:
Child Development and Pedagogy focuses on educational psychology for children aged 6-11 years.
The language is the medium of instruction.
Language II emphasizes language elements, communication, and comprehension.
For those aiming to become teachers, understanding the CTET exam's structure, eligibility, and requirements is crucial. CTET previous year papers. Proper preparation ensures better chances of qualifying and proceeding towards a fulfilling teaching career.
The provided information is about the CTET (Central Teacher Eligibility Test) 2023. Here's a summarized breakdown of the details:
Languages:
There's a list of 20 languages with their corresponding codes. Candidates have to choose any two languages from this list for the CTET exam.
Exam Pattern & Syllabus:
CTET Syllabus 2023 focuses majorly on Child Development and Pedagogy. CTET previous year papers.
There are other sections including Mathematics, Science/Environmental Science, and Languages.
For Paper I: Syllabus includes Child Development and Pedagogy, Language I & II, Mathematics, and Environmental Science.
For Paper II: The Syllabus covers Child Development and Pedagogy, Language I & II, CTET previous year papers Mathematics, Science, and Social Studies. Candidates have to choose either Maths/Science or Social Studies based on their preference.
CTET Certificate Validity:
The CTET certificate now has a lifetime validity.
Earlier, the truth was 7 years from the date of issue.
CTET Teacher Salary:
CTET-qualified teachers can apply for teaching jobs for Classes 1 to 8 in Central Government Schools.
Salary details for Primary Teachers, TGT, and PGT are provided, including components like Pay Scale, Grade Pay, and CTET syllabus. Basic Pay after the 7th CPC, HRA, TA, Gross Salary, and Net Salary.
CTET 2023 Key Points:
The exam will focus more on conceptual understanding, application, problem-solving, reasoning, and critical thinking. CTET syllabus
A sample blueprint or sample question papers will be released by CBSE.
CTET 2023 Exam Centre:
A list of exam centres across different states and cities is provided. CTET syllabus. Candidates can choose up to 4 preferences.
CTET 2023 Admit Card:
CTET admit card. CBSE will release the admit card 2 days before the exam date.
CTET 2023 Answer Key:
A provisional answer key will be released on the official website, CTET admit card, CTET previous year papers. with an option for candidates to challenge it.
CTET 2023 Results:
CTET result 2023. The results will be declared approximately four weeks after the exam.
CTET Cut-Off:
A mark sheet will be issued to candidates appearing in CTET.
Candidates securing 60% or above will be issued an Eligibility Certificate.
The validity of the certificate has been extended from 7 years to a lifetime.
CTET previous year papers. CTET result 2023. There might be concessions for candidates belonging to certain reserved categories.
This summarized version includes all the critical details from the provided information. Let me know if you need any other assistance.
Who will eligible for CTET?
To be eligible to take the CTET exam, a candidate must have a Senior Secondary (or equivalent) degree with at least 50% marks and have passed or be in the final year of a 2-year Diploma in Elementary Education, a 4-year Bachelor of Elementary Education (B.El.Ed), or a 2-year Diploma in Education (Special Education).
How can I download CTET 2023 answer key?
Visit the official site of CBSE CTET at ctet.nic.in. Click on CTET Answer Key 2023 link available on the home page. Enter the login details and click on submit. CTET result 2023, Your answer key will be displayed on the screet
Is CTET 2023 certificate released?
CTET Certificate & Marksheet 2023
CBSE has released the Central Teacher Eligibility Test (CTET) mark sheets and eligibility certificates of all qualified candidates in Digital Format in their DigiLocker account.
What is the salary of CTET teacher in 2023?
CTET Teacher Salary 2023 – Conclusion
For Trained Graduate Teachers (TGTs), the basic pay scale is 9300-34800 with grade pay of 4600, and for Post-Graduate Teachers (PGTs), the basic pay scale is 9300-34800 with grade pay of 4800