The Institute of Banking Personnel Selection (IBPS) plays a pivotal role in selecting qualified individuals as Probationary Officers in India's public sector banks. Now stepping into its 13th edition, the IBPS PO exam date is slated for the 23rd and 30th of September 2023. Aspirants eagerly await the release of the IBPS PO admit card. This year, the limelight is on the 3049 vacancies spread across 11 esteemed public sector banks. While many are brushing up on the IBPS PO syllabus 2023, others are researching the expected IBPS PO cut-off. To ace the exam, candidates are also seeking the best IBPS PO preparation tips.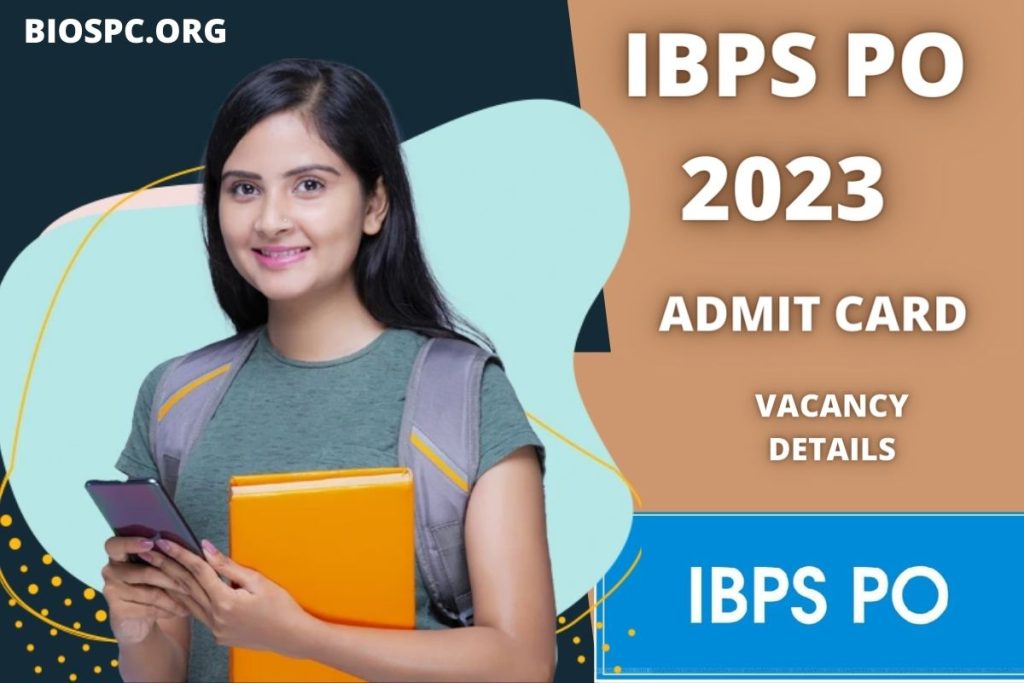 IBPS PO 2023: A Snapshot
| Features | Details |
| --- | --- |
| Organizing Body | Institute of Banking Personnel Selection (IBPS) |
| Position | Probationary Officer |
| Vacancies | 3049 |
| Banks Participating | 11 |
| Mode of Application | Online |
| Exam Dates | 23rd and 30th September 2023 |
| Mode of Examination | Online |
| Selection Process | Prelims, Mains, Interview |
| Eligibility (Education) | Graduate |
| Age Limit | 20-30 years |
| Salary Bracket | Rs. 52,000 – 55,000 |
| Official Portal | www.ibps.in |
Key Dates to Remember
Mark your calendars! The following table encapsulates all the essential dates related to IBPS PO 2023:
| Events | Dates |
| --- | --- |
| Official Notification | 31st July 2023 |
| Online Registration Commencement | 1st August 2023 |
| Last Date of Registration | 28th August 2023 |
| Preliminary Exam Admit Card | 14th September 2023 |
| Preliminary Exam | 23rd and 30th September 2023 |
| Main Exam Admit Card Release | October 2023 |
| Main Exam Date | 5th November 2023 |
Vacancy Details
The table below illustrates the category-wise vacancy distribution across participating banks:
| Banks | SC | ST | OBC | EWS | General | Total |
| --- | --- | --- | --- | --- | --- | --- |
| Bank of Baroda | 33 | 16 | 60 | 22 | 93 | 224 |
| Canara Bank | 75 | 37 | 135 | 50 | 203 | 500 |
| Central Bank of India | 300 | 150 | 540 | 200 | 810 | 2000 |
| Punjab National Bank | 30 | 15 | 54 | 20 | 81 | 200 |
| Punjab & Sind Bank | 24 | 16 | 40 | 8 | 37 | 125 |
| Total | 462 | 234 | 829 | 300 | 1224 | 3049 |
How to Apply?
For aspirants eager to embark on this journey, online registration remains the first step. The procedure is seamless and intuitive, and it starts here.
Fees Breakdown
| Category | Amount |
| --- | --- |
| SC/ST/PWD | Rs.175 (Only intimation charges) |
| General and Others | Rs. 850 (Application Fee including intimation charges) |
Are You Eligible?
Educational Requirement: A graduation degree from a recognized university is imperative. Candidates should ensure they have the degree certificate and mark sheet at the time of registration.
Computer Acumen: A basic working knowledge of computers is crucial, given the exam's online mode.
Language Prowess: Candidates should be fluent (both verbally and written) in the official language of the State/UT they apply from.
Nationality / Citizenship of Applicants
A candidate applying for the CRP/Bank PO Examination must be one of the following:
1. Citizen of India
2. Subject of Nepal or Bhutan
3. Tibetan Refugee who came to India before 1st January 1962 with the intention of permanent settlement
4. A person of Indian Origin (PIO) who has migrated from Burma, Pakistan, Sri Lanka, Vietnam or East African countries of Zaire, Kenya, Tanzania, Uganda, Zambia, Ethiopia, and Malawi, with the intention of permanent settlement in India
Candidates belonging to categories 2, 3, and 4 must have a certificate of eligibility issued by the Govt of India in their favour.
IBPS PO Age Limit (as of 01/08/2023)
Any candidate who is applying for the examination should not be less than 20 years old and not more than 30 years old at the time of registration. In addition to this, there is an age relaxation application to category-wise candidates as per the government rules:
| | |
| --- | --- |
| Ex-servicemen (Army personnel) | Age Relaxation |
| Scheduled Caste/Scheduled Tribe (SC/ST) | 5 years |
| Other Backward Classes (OBC Non-Creamy Layer) | 3 years |
| Persons with Disabilities (PWD) | 10 years |
| Persons affected by the 1984 riots | 5 years |
| Widows/Divorced Women | 9 years |
| Persons with Domicile of Jammu &Kashmir during the period of 1-1-1980 to 31-12-1989 | 5 years |
| Persons affected by 1984 riots | 5 years |
| Regular Employees of Union Carbide Factory, Bhopal retrenched from service(for MP state Only) | 5 years |
IBPS PO Recruitment 2023
Probationary Officers (PO) and Management Trainees (MT) are recruited every year through a Common Recruitment Process (CRP), commonly known as the IBPS PO exam. The CRP was started in 2011 and is being conducted for the 13th time this year hence is officially called PO /MT CRP XIII 2023. The IBPS PO selection process consists of 3 phases (preliminary, mains and interview) and the candidate must qualify each of them to proceed to the next phase. Mentioned below are the important steps of the Recruitment Process:
•Online Preliminary Examination:
An adequate number of candidates in each category are shortlisted by IBPS depending upon requirements for Online Main Examination
•Online Mains Examination:
Candidates must qualify for the sectional as well as an overall cutoff in the main exam to be eligible for an interview.
•Interview:
The interview will be conducted by the Participating Organizations and coordinated by the Nodal Bank in each State/ UT with the help of IBPS
•Final Result:
The Final result is declared on the basis of candidates' combined performance in IBPS PO Mains and Interview Rounds.
•Provisional Allotment:
The provisional allotment of the qualified candidate is released on the official website. The IBPS Banks are allotted based on candidates' preferences which are made at the time of online application.
IBPS plays its part in the selection process only till the provisional allotment to different banks. After that, the responsibility to intimate the qualified candidates about their joining dates and procedures lies with the respective banks.
Public Sector Banking has become an illustrious career option in current times as it comes with the promise of attractive salary, perks, job security, fast growth and good work-life balance. The government of India set up Personnel Selection Services (PSS) in 1975 for the recruitment of probationary officers and clerks to all public-sector banks. PSS was later changed to the Institute of Banking Personnel Selection (IBPS) in 1984 as per the mandate of the Reserve Bank of India (RBI).
Major Banks Participating in IBPS PO Recruitment 2023
Let's take a look at all the banks that have participated in this year's IBPS PO recruitment process:
1. Punjab National Bank
2. Union Bank of India
3. Bank of India
4. Indian Bank
5. Canara Bank
6. Indian Overseas Bank
7. Central Bank of India
8. UCO Bank
9. Bank of Baroda
10. Punjab & Sind Bank
11. Bank of Maharashtra
IBPS PO 2023 Exam Pattern
IBPS introduced separate sectional timing for each section in the preliminary exam. The PO exam (CRP XIII) for hiring candidates will be based on an online written exam in two parts: Tier 1 or IBPS Preliminary Exam and Tier 2 or IBPS Mains Exam. This examination is followed by a face-to-face interview process.
IBPS PO Prelims Exam Pattern 2023
The IBPS PO preliminary examination has a total duration of 1 hour and 20 minutes for each section, which will be conducted in online mode. It consists of 3 sections with a total of 100 questions and a maximum score of 100 marks. There is a negative marking in the PO pre-exam and 0.25 marks are deducted for each wrong answer. Candidates must clear the cut-off in all 3 sections to qualify for the IBPS PO Main exam. The section-wise details are given below:
IBPS PO Prelims Exam Pattern 2023
S.No.
Name of Tests(Objective
No. of Questions
Maximum Marks
Duration
1
English Language
30
30
20 minutes
2
Numerical Ability
35
35
20 minutes
3
Reasoning Ability
35
35
20 minutes
Total
100
100
60 minutes
Candidates have to qualify in each of the three tests by securing minimum cut-off marks to be decided by IBPS. The adequate number of candidates in each category as decided by IBPS depending upon requirements will be shortlisted for Online Main Examination.
IBPS PO Mains Exam Pattern 2023
The IBPO PO Main exam is also conducted online, it has 5(4+1) sections with a total score of 200+25 marks and a total duration of 180+30 minutes. IBPS will be conducting a descriptive paper in its mains exam for the selection of candidates for the post of Probationary Officer. The sections must be attempted in the same order and the allotted time as mandated at the time of the exam. A candidate has to clear both preliminary and main examinations to be eligible for the interview process.
IBPS PO Mains Exam Pattern 2023
S.No.
Name of Tests(Objective
No. of Questions
Maximum Marks
Duration
1
Reasoning & Computer Aptitude
45
60
60 minutes
2
English Language
35
40
40 minutes
3
Data Analysis & Interpretation
35
60
45 minutes
4
General Economy & Banking Awareness
40
40
35 minutes
Total
155
200
3 Hours
5
English Language (Letter Writing & Essay)
2
25
30 minutes
Check IBPS PO 2023 Exam Pattern (Click Here)
Penalty for Wrong Answers: There is a penalty for wrong answers marked in the Objective Tests of both Preliminary and Main exams. A wrong answer to an objective question by the candidate will lead to a penalty of one-fourth of the marks assigned to that question. For example, 0.25 marks will be deducted as a penalty for a wrong answer to a question that carries 1 mark. There will be no penalty for leaving a question blank, i.e. if no answer is marked by the candidate.
IBPS PO Interview:
After qualifying for the mains exam, candidates are called for an interview.
It has a maximum of 100 marks with a qualifying mark of 40% (35% for reserved categories).
It generally lasts 15-20 minutes.
The final merit list is determined based on a combination of main exam marks and interview marks in an 80:20 ratio.
IBPS PO 2023 Syllabus:
The Prelims syllabus comprises Reasoning Ability, Quantitative Aptitude, and English Language. IBPS PO syllabus, Specific topics under these categories are mentioned. IBPS PO syllabus.
The main syllabus consists of five sections, with details presumably available through a separate link.
IBPS PO 2023 Salary:
The initial in-hand salary ranges from Rs. 52,000 to Rs. 55,000.
The initial basic pay is Rs. 36,000. Further details are available through another link.
IBPS PO Exam Centre:
The exam is conducted online across India.
Candidates can provide their preferred exam centres during the application, but the final allotment is based on availability.
Any misconduct can lead to the cancellation of the candidature.
IBPS PO Pre-Exam Training:
Special training is arranged for candidates from SC/ST/Religious Minority Community categories.
This training is designed to level the playing field for students who cannot access coaching.
The training covers types of questions, strategies, and best practices.
Training is free, but other expenses are to be borne by the candidate.
A list of potential training centres across various regions of India is provided.
If you have any specific queries or need detailed information on any of the above topics, feel free to ask!

IBPS PO 2023 Guide: Everything You Need to Know
1. IBPS PO 2023 Admit Card & Call Letter
When you're gearing up for the 2023, remember the admit card is your golden ticket! But here's the catch – it won't land at your doorstep. IBPS PO syllabus. IBPS PO admit card. Every candidate has to fetch it online. So, how do you get it?
Steps to Access Your Admit Card
Visit the official bank website.
Your keys to access: Registration No/Roll No and Date of Birth/ Password.
Mark your calendar: the admit card becomes available 10 to 15 days before the IBPS PO 2023 Exam.
Pssst… The call letter will come in stages:
Online Preliminary Examination
Online Mains Examination
Interview
2. IBPS PO 2023 Result Overview
The moment of truth! IBPS discloses results after every exam phase. And if you're aiming for the top, here's some motivation: the final merit list is structured based on marks from the Online Main Examination and interview. IBPS PO admit card. And if your name shines in this list, get ready for the next chapter, but only after you pass the Medical Fitness test.
3. Preparation Tips for IBPS PO 2023
Preparation is your ladder to success. And the steps? A robust study plan and the right resources!
Tips to Ace the Exam:
Dive deep into the latest exam pattern.
Beware of the surprises! Previous year patterns have been unpredictable.
Treasure trove alert: get your hands on the new pattern questions from last year's banking exams.
Swipe through the previous year's IBPS questions.
Bankers Adda is your guide to updated study notes, quizzes, and video lectures for the PO Exam 2023.
Consider additional support like coaching or an online test series for an extra edge.
4. IBPS PO Coaching: Join the Success Brigade
Did you know? 3 out of every 5 students from Career Power's classroom program landed a Banking or SSC job in 2023!
5. Mock Tests for Real Success
Practice makes perfect! With Career Power's Online Test Series, recreate the exam environment. These tests emulate the exact pattern, ensuring you're not caught off-guard during the real deal.
6. IBPS PO 2023 Cut-off Insights
Every step in the IBPS PO 2023 has its cut-off. IBPS PO cut off. While you aim for the stars, here's a peek at the previous year:
IBPS PO Prelims Cut-Off 2022- Category-wise
| Category | Cut-Off Marks |
| --- | --- |
| GEN | 49.75 |
| … | … |
IBPS PO Prelims Cut-Off 2022- Section-wise
| Subjects | English Language | Quantitative Aptitude | Reasoning Ability |
| --- | --- | --- | --- |
| Maximum Score | 30 | 35 | 35 |
| Cut Off Score UR/EWS | 09.75 | 08.75 | 09.25 |
| … | … | … | … |
What is IBPS PO salary?
IBPS PO Pay Scale
The salary for the IBPS Probationary Officer is Rs. 36000/- along with some other additional allowances and some deductions. The net In-hand PO Salary 2023 is estimated to be Rs. 52,630/
What is IBPS PO qualification?
PO Educational Qualification. The institute specifies that candidates who wish to appear for the PO exam should at least have a Bachelor's degree from a recognized university. IBPS PO admit card. IBPS PO syllabus, Candidates appearing for xam must be abreast of the latest exam pattern and syllabus of the exam.
Which post is highest in IBPS?
Chairman or CEO or Managing Director is the highest post in a bank.
Is bank PO hard?
The exam's difficulty can be attributed to several factors, including an extensive syllabus, intense competition, and a rigorous selection process. IBPS PO syllabus, Candidates need a strong foundation in subjects like economics, finance, banking, and current affairs to excel in the