Introduction: In preparation for the UPSC EPFO exam in 2023, it's essential to be well-informed about the UPSC EPFO salary, UPSC EPFO recruitment, UPSC EPFO notification, and UPSC EPFO syllabus. The Union Public Service Commission (UPSC) has organized this examination to select qualified candidates for roles like Enforcement Officers (EO), Accounts Officers (AO), and Assistant Provident Fund Commissioners (APFC) within the Employees' Provident Fund Organization (EPFO), a segment administered by the Ministry of Labour and Employment. Eligible candidates, possessing a graduation degree in law, management, or a relevant field, can apply for this prestigious examination. The selection procedure comprises two stages: a Written Test and an Interview. Notably, UPSC has unveiled a total of 418 vacancies for EO/AO positions and 159 vacancies for APFC roles. Mark your calendars for the UPSC EPFO Exam, which is scheduled for the 2nd of July, 2023.
UPSC EPFO 2023 Notification
The UPSC EPFO Recruitment 2023 Notification has been released, announcing a whopping 577 vacancies for the posts of Enforcement Officer (EO)/ Accounts Officer (AO) and Assistant Provident Fund Commissioner (APFC) in the Employee Provident Fund Organization. This comprehensive notification contains essential information about the recruitment process, including eligibility criteria, selection procedure, exam pattern, syllabus, salary details, application procedures, and much more.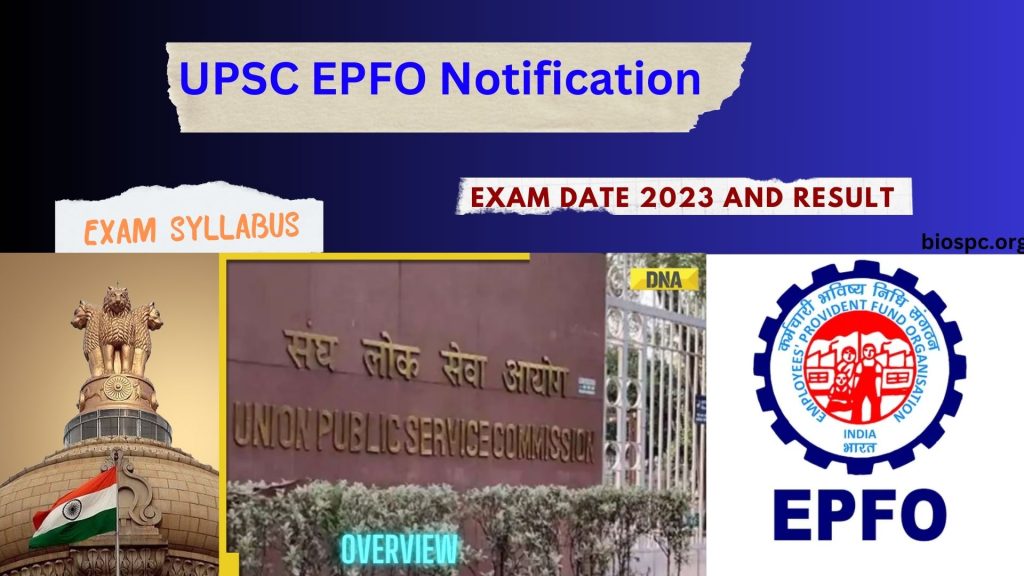 UPSC EPFO Recruitment 2023 Exam Summary:
| Exam Authority | Union Public Service Commission |
| --- | --- |
| Post Names | Enforcement Officer (EO)/ Accounts Officer (AO) and Assistant Provident Fund Commissioner (APFC) |
| Total Vacancies | 577 |
| Category | Government Jobs |
| Application Mode | Online |
| Job Location | Across India |
| Selection Process | Written Test and Interview/Personality Test |
| Language | English and Hindi |
| Official Website | www.upsc.gov.in |
UPSC EPFO 2023 Exam Date: The crucial dates for the UPSC EPFO Recruitment 2023 examination have been officially announced by the Union Public Service Commission. The offline examination for EPFO Recruitment 2023 is scheduled for the 2nd of July, 2023. Here are the important dates at a glance:
| Event | Date |
| --- | --- |
| UPSC EPFO Notification 2023 | 25th February 2023 |
| Opening Date of Registration | 25th February 2023 |
| Closing Date of Registration | 17th March 2023 |
| UPSC EPFO Admit Card 2023 | 14th June 2023 |
| UPSC EPFO Exam Date 2023 | 2nd July 2023 |
| UPSC EPFO Answer Key 2023 | July 2023 |
| UPSC EPFO Result 2023 | August 2023 |
UPSC EPFO 2023 Answer Key: The UPSC EPFO Answer Key for 2023 will be made available in July 2023, shortly after the EPFO Exam, which is scheduled for the 2nd of July, 2023. Candidates can access the EPFO Answer Key through a direct link provided by the authorities.
UPSC EPFO Vacancy 2023
The EPFO Recruitment 2023 has unveiled a total of 577 vacancies for Enforcement Officer (EO)/ Accounts Officer (AO) and Assistant Provident Fund Commissioner (APFC) positions. Among these, 418 positions are allocated for EO/AO, while the remaining 159 positions are designated for APFC. The vacancy distribution is outlined in the table below:
| Category | EO/AO Vacancies | APFC Vacancies |
| --- | --- | --- |
| General (UR) | 204 | 68 |
| OBC | 78 | 38 |
| SC | 57 | 12 |
| ST | 28 | 25 |
| EWS | 51 | 16 |
| Total | 418 | 159 |
UPSC EPFO Apply Online 2023: Online registration for EPFO Enforcement Officer and Assistant Provident Fund Commissioner positions has commenced. Eligible candidates can submit their online registration form from the 25th of February to the 17th of March 2023. The online application form can be accessed on the official UPSC website at www.upsc.gov.in.
UPSC EPFO syllabus Candidates are required to pay the online application fee to complete their EPFO Application Form. The fee structure is as follows:
| Category | Application Fee | Mode of Payment |
| --- | --- | --- |
| General / OBC / EWS | Rs. 25/- | Online |
| SC / ST / PwD / Female | Rs. 0/- | Online |
How to Apply for the UPSC EPFO 2023 Exam
To apply for the EPFO 2023 Exam, follow these steps:
Click on the provided link for the EPFO Online Application Form.
In the newly opened tab, select "Apply Now."
On the next page, confirm your agreement to the declaration at the bottom.
Fill in your personal details.
Finally, agree to the declaration and submit Part I of the EPFO Officer Online Application Form.
Proceed to Part II, where you will provide payment details (except for fee-exempted candidates), choose your examination centre, and upload your photograph, signature, photo identity card document, and declaration.
Verify all the provided information and click "Submit."
Requirements for EPFO Application Form 2023: Applicants must ensure they have the following documents and information for the EPFO Application Form 2023:
Matriculation Certificate/Marksheet
Age Proof/Birth Certificate
Education Certificate
Caste Certificate
Challan/Credit Certificate/E Challan
Photograph
Signature
UPSC EPFO 2023 Eligibility Criteria
The eligibility criteria for UPSC EPFO Recruitment 2023 are as follows:
Nationality: Interested candidates must be Indian citizens. However, candidates from Nepal, Bhutan, and Tibetan refugees settled permanently in India since 1962, and persons of Indian origin settled permanently in India from countries like Pakistan, Sri Lanka, Burma, Vietnam, and other East African countries are also eligible.
Education Qualification: Candidates with a Bachelor's Degree in Any Stream from Any Recognized University in India are eligible. Additionally, a diploma in Company Law/Labour Laws/Public Administration is desirable.
Age Limit: The upper age limit for EPFO Recruitment 2023 for EO/AO posts is 30 years, while for APFC, it is 35 years.
Age Relaxation:
| Category | Age Relaxation (in Years) |
| --- | --- |
| ST/SC | 5 |
| OBC | 3 |
| Employees of EPFO | 5 |
| PH (General) | 10 |
| PH (OBC) | 13 |
| PH (ST/SC) | 15 |
EPFO 2023 Exam Pattern: The selection process for UPSC EPFO syllabus 2023 involves a Recruitment Test (RT) followed by an Interview. The RT is a pen & paper-based examination with a duration of two hours, featuring objective multiple-choice questions (MCQs). The interview carries 100 marks.
Exam Pattern Overview:
Part A: General English and Vocabulary (300 Marks, 2 Hours)
Part B: Indian Culture, Freedom Movements, Current Events, Population, Development,
EPFO Previous Year Question Paper PDFs: Aspirants preparing for the EPFO 2023 exam can benefit from previous year question papers to enhance their preparation.
UPSC EPFO 2023 Syllabus: To excel in the UPSC EPFO syllabus 2023 exam, it's crucial to understand the syllabus thoroughly. Here's the subject-wise syllabus for your reference:
General English and Vocabulary:
Idioms and Phrases
Tenses
Word Formation
Fill in the Blanks
Synonyms & Antonyms
Verb & Adverb
Vocabulary
Theme Detection
Articles
Sentence Completion
Error Correction
Conclusion
Subject-Verb Agreement
Passage Completion
Grammar
Comprehension
Unseen Passages
Sentence Rearrangement
General Science:
Newton's Laws of Motion
Units and Measurements
Thermal Properties of Matter
Gravitation
Kinetic Theory
Wave Optics
Work, Energy, and Power
Physical World
Oscillations
Ray Optics and Optical Instruments
Mechanical Properties of Solids
Thermodynamics
Motion in a Straight Line
Nuclei
Motion in a Plane
Systems of Particles and Rotational Motion
Mechanical Properties of Fluids
Moving Charges and Magnetism
Electric Charges and Fields
Electrostatic Potential and Capacitance
Electromagnetic Induction
Current Electricity
Magnetism and Matter
Dual Nature of Radiation and Matter
Alternating Current
Atoms
Electromagnetic Waves
Semiconductor Electronics
Waves
The s-block elements
Communication systems
Organic chemistry-some basic principles and techniques and hydrocarbons
P-block elements – group 14 (carbon family)
Solutions
Chemical bonding and molecular structure
Electrochemistry and chemical kinetics
Haloalkanes and Haloarenes
General principles of metallurgy
Organic compounds containing C, H, and O
P- block elements group 13 (boron family)
P-block elements
D and f block elements & coordination compounds
Classification of elements and periodicity in properties
Environmental chemistry
Biomolecules
Solid-state
States of matter: gases and liquids
Chemistry in everyday life
General Mental Ability:
Analogy
Classification
Series
Coding-Decoding
Blood Relations
Direction Sense Test
Mathematical Operations
Arithmetical Reasoning
Logical Venn Diagrams
Alphabet Test
Sitting Arrangements
Inserting the Missing Character
Number, Ranking, and Time Sequence Test
Eligibility Test
Computer Fundamentals:
Basic Concepts
Operating System
Cyber Security
Software Packages
Spreadsheet
Working with the Internet
Statistics, Economics, and Mathematics:
| Topic | Subtopics |
| --- | --- |
| Collection, Classification, Tabulation, and Diagrammatic Presentation of Data | Measures of Central Tendency, Dispersion, and Moments. |
| Index Number | Uses, types, and limitations of index numbers, construction of index numbers, simple and weighted aggregate method, Simple and weighted average price-relatives, Chain base index numbers, Base shifting, and Cost of Living Index numbers. |
| Design of Sample Survey | Sampling Unit, Sampling frame, Sampling fraction, Sampling with and without replacement, Population Parameter and Sample estimator, Simple random sampling, stratified random sampling, systematic sampling, cluster sampling. |
| Correlation and Regression | Correlation and its coefficients, Linear Regression. |
| Time Series Analysis | Components, Measurements of Trend, Seasonal, Cyclical, and irregular variations. |
UPSC EPFO Salary: Candidates selected for UPSC EPFO syllabus Officer positions are offered competitive salaries. The pay scale for EPFO Officers is at Level 8 in the Pay Matrix as per the 7th CPC, which translates to a salary range of Rs 43,600 to Rs 55,200. Additionally, UPSC provides other allowances and benefits to selected candidates.
UPSC EPFO Admit Card: EPFO Admit Cards/Call Letters will be released separately for each stage of the examination on the official website www.upsc.gov.in. Admit cards will be available exclusively in online mode.
UPSC EPFO Result: The EPFO Enforcement Officer Result PDF will be made available on the official website of the Union Public Service Commission at www.upsc.gov.in. Candidates who qualify for the recruitment test will be called for the Interview round, and the final selection is based on a 75:25 weightage of marks scored in the Recruitment Test and Interview, respectively.
UPSC EPFO Cut-Off: UPSC releases cut-off marks for the Recruitment Test, Interview round, and final selection along with the EPFO notification Final Result. These cut-off marks are categorized into various groups. For reference, here are the cut-off marks from the previous year:
UPSC EPFO notification Cut Off 2021-22: Category – Recruitment Test – Interview – Final Selection
| Category | Minimum Qualifying Marks (Written Test) | Maximum Marks (Written Test + Interview) |
| --- | --- | --- |
| UR | 187.39 | 259.33 |
| OBC | 173.12 | 244.51 |
| SC | 160.51 | 234.39 |
| ST | 156.30 | 231.87 |
| EWS | 171.43 | 246.08 |
| PH-HI | 101.67 | 169.28 |
| PH-OH | 154.61 | 242.99 |
This comprehensive overview should provide you with valuable insights into the EPFO notification 2023 examination. Prepare diligently, stay updated, and best of luck with your preparations for this prestigious examination
What is the UPSC EPFO?
The EPFO exam is conducted by the Union Public Service Commission to select candidates for the post of Enforcement Officer or Accounts Officer in the EPFO
What is UPSC EPFO salary?
EPFO's salary is a very handsome amount in the range of Rs. 58,000-62,000. Entry level pay is ₹ 47600/- (pre-revised Pay Band 2 ₹ 9300-34800/-Grade Pay ₹ 4800/-). The total salary Including TA, HRA & other allowances will amount to ₹ 85,508.01-Jul-2023

Is UPSC EPFO a good job?
The EPFO Enforcement Officer exam is considered one of the most sought-after jobs in India for the following reasons: Job Security: As an EPFO Enforcement Officer, candidates get the benefit of job security, as they are employed with a government organisation.
Is EPFO a central govt job?
Yes, the UPSC EPFO syllabus Is A Central Government Job. It comes under the administrative control of the Ministry of Labour and Employment, Government of India.